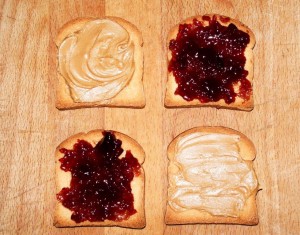 This morning I helped lead the large group curriculum for our children's program at Church. It's 252 Basics from Orange. I think we're a week behind. If you're using it at your church, your kids may have seen this played out last weekend…
We introduced the importance of friendship—of sticking together—and the power of real relational community in the church. Illustration: have the kids assemble a peanut butter and jelly sandwich. PB and J, though very different, stick together and are the glue that holds the sandwich together.
It was a reminder to me of the strength of support I feel in the community where I now live. Even though we've only lived here a short time, we truly feel a part of our church, work and school communities. Here are four reasons I think it's working so well:
We invest.
Some may fault us for this, but we didn't wait around to see if it was going to be a good fit. We made it a good fit. We didn't shop around for months for a good church. We did some careful evaluation, picked one, and have made it our home. We decided this was going to be our community and we have tried hard to play our part. This is our community now, too.
We expect the best.
I think it was Day One that we were invited to dinner with a family from work. We were still moving in, but we put down the boxes for a couple of hours and we went. They were great hosts and served a wonderful dinner. But the power of our visit went far beyond food.
Since that day, our kids have become great friends with their, and I believe their investment in us cemented our belief in the strength of this community.
The warmth we saw in them that day, we have looked for—and found—in many more. Even yesterday, the middle school principal drove two hours on a Saturday to see just a handful of his students (including my son) compete in the state Odyssey of the Mind tournament. He didn't have to, but he did.
We borrow stuff.
Most of our neighbors aren't close enough to walk next door for a cup of sugar. They are close enough, however, to borrow a table saw, a hammer drill, or a set of folding chairs. We share rides to and from school and youth group. And we have people to turn to when we need someone to watch the kids or drive us home from the auto shop.
When we moved here, we decided it was going to have to be OK to ask for help—and to receive it. And we have tried to maintain an open hand with our time and belongings as well.
We try to err on the side of grace.
Not everyone is perfect. Not everyone is like us, or even likes us. I think that's ok. So, when I hear a neighbor or someone from church or work say something I think is fishy, I remind myself that they have probably thought the same of something I have said. And I keep my mouth shut.
I would much rather be a part of a community with a bunch of imperfect people, than stay at home alone and think I'm perfect. I'm finding that it's more fun to try (and sometimes fail) together, than to succeed by myself. And I've realized that it's better to lend and borrow than simply to own.
I love where I live: I have a great view and a nice house. But more importantly, I love where I live because of the people who live here too.
What are you or your neighbors doing to make your community strong?