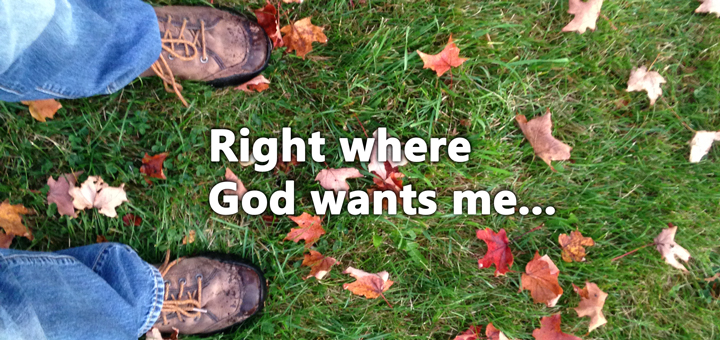 Last night I got home from a busy week of travel: back and forth to Detroit, to Washington D.C., and to the Middle School Ministry Campference in southern Indiana. I haven't added up the miles, but after planes, trains and automobiles (literally), I can assure you that it has never felt better to be at home, spending precious time with my family, making my own coffee and sleeping in my own bed.
And of all the things I learned this week, one truth continues to resonate in my soul: I am right where God wants me… at least for now.
On Saturday, at lunch, Heather Flies walked past me near the dish window in the dining hall and tossed a hand grenade into my brain (which never stops going anyway). "Tonight, when I'm speaking," she said, "I'll have you in mind."
As it turns out, it's a powerful rhetorical tool. She had my full attention hours before she took the stage to speak, and long before I even knew the topic. (More on this in a later post.)
What was she thinking? What would she say? Why me? Ahh… I couldn't stop thinking about it.
The thoughts raced through my mind all afternoon. And I became convinced that God had a message for me, and it was coming through a middle school youth pastor.
"I have an older sister," she began her message that evening by telling us all about herself.
That's funny, I thought. I have an older brother.
"When she was in preschool, I wanted to be in preschool," she continued. Also funny, because when my brother started school, I wanted to start school too. I was two years younger, but I was always trying to catch up.
"When she went to elementary school, I wanted to go too." And middle school, she added. And high school. And college.
Me too, me too, me too, I kept thinking. And I thought about the time my brother got the chicken pox and I wanted to get the chicken pox too.
I often struggle with just being where I am and enjoying this moment. And, it seems, at least one other person has had the same sorts of struggles.
I'm the kind of person who loves to be moving forward. I love the idea of knowing what's coming. And I love to have a plan. But right now, I really don't. And it's hard for a guy like me to admit that.
And I've had to admit that a hundred times in the last six or 8 weeks… to friends, family, other people in ministry, and even the cashier at the grocery store (we live in a small town). "So what's next?" they all ask. And my answer is still that I'm just not sure. (But it's ok, you're allowed to ask. It shows that you care.)
And then Heather read from Psalm 37:3-4. It says, "Trust in the Lord and do good; dwell in the land and enjoy safe pasture. Take delight in the Lord, and he will give you the desires of your heart."
The problem is, when we're in between—when we're not sure of what's next—we have a hard time trusting. I know I do.
And I wonder if I'm really doing any good.
And I have difficulty dwelling.
And I know that I love my community and my church… but, honestly, sometimes it just isn't easy to enjoy the uncertain, in-between place where I am.
But God, I was reminded, He led me here. He chose this pasture for me. He set up the fence; He defined my borders. He has me right where he wants me—at least for now—and He is the one who invites me to trust in Him.
I will confess: I have been scoping out the fence. Some days it looks like a prison wall, and I wonder if I can jump over it, speed up this process, or somehow break through it to the next good thing. Yet, all the while, God has been standing guard—not to keep me in, but to give me rest.
He is standing watch to give me rest.
This pasture: it's a good place. It's a safe place. And, while I don't yet know when He will pick up and lead me to the next pasture, or what that next pasture will be, today I am choosing to enjoy this one. I am choosing to do all the good I can while I'm here. I am choosing to dwell here—to really dwell. I am choosing to enjoy the safety of this place. And I will delight in the Lord, because He has me right where he wants me… at least for now.