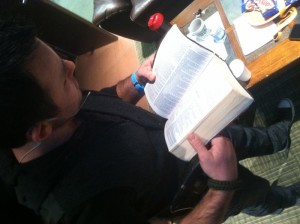 For almost ten years before I moved into camping ministry, I was a support-raising campus missionary. I made so many mistakes in the early stages of fundraising, and undoubtedly burned many bridges… without even getting close enough to see them. Instead, I lobbed halfhearted emails, sent desperate letters, and prayed hard that people would give.
What I didn't realize was that by not asking people to give face-to-face I was dramatically reducing the chances that they would give.
Steve Shadrach, who has taught many missionaries how to effectively raise support says,
"If you instead choose to cut corners, take the quick, easy route and just send a fund request letter out or make a group presentation you might have a 10% response rate. If you send a letter followed by a phone call asking for support, you might get 25% of people to say yes. But, if you are willing to sit down eyeball to eyeball with others and lay out the incredible ministry vision God has called you to, usually well over half of the folks pull their checkbooks out to join you as ministry partners!"
(See "Five Keys to Raising Support" on his resources page at www.supportraisingsolutions.org/resources)
You know what? He's right. And I think the principle applies when you're looking for opportunities to grow your speaking ministry. Here are a few key moves that will help you dramatically improve your chances of landing more speaking events:
Don't rely on emails. As I mentioned in my previous post, I get lots of speaking inquiries by email. Even a well-written email has a poor chance of making into my list to consider for
future events.
Ask mutual friends for introductions. The vast majority of the new speakers I have hired in the past few years have been people I considered because someone I trust recommended them to me. In fact, I can't think of someone who sent me an email that I have invited to speak.
Get to know me first. I'm in ministry too, so I love getting to know like-minded individuals who share my passions and experiences. I bet we have lots of other things in common (like an interest in small-scale farming, foster care, or graphic design) and would be great friends if you weren't always trying to sell yourself to me as a speaker.
Attend one of my events. It's a great way to get a feel for how we do ministry. Maybe you'll discover your style or expertise isn't right for our organization. Maybe not. Either way, your willingness to carve out time to learn about how we do things will mean a lot to me. If you're interested, I'll welcome you as my guest, just ask.
Watch and listen to great communicators. I have the privilege of seeing top-notch speakers live almost every weekend, something you may not have. But there are lots of great communicators who stream their teachings online (like Scott McKee at Ward Church, who streams his teaching at live.wardchurch.org), or are on the radio regularly. You can learn a lot from them by listening to how they structure their messages, how they hold your attention, how they vary their tone and volume, and how they time their delivery.
In addition to all these things, probably the most significant thing you can do is take every opportunity you can to speak. I always volunteer to lead workshops, breakout sessions, and the like when I'm attending a conference or retreat. There is simply no substitute for the confidence you will gain each time you stand before an audience. And while you're at it, be sure to record some video of yourself, because I'm certainly going to ask to see it.
Who are the speakers you watch or listen to hone your speaking skills?