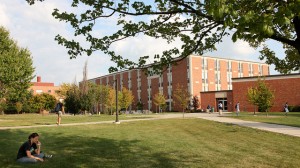 Just a year after graduating from one of the top Christian universities in America, I walked into a lecture hall—Pearce 127—on the campus of Central Michigan University. Until just a few weeks before, I didn't even know what campus ministry was. Now I was visiting one, considering joining the staff.
The room was nearly full, with almost 300 students attending a worship service on campus because they wanted to. That was the first thing I realized. Unlike chapel services in the Cathedral of the Ozarks, no one was keeping track of attendance. None of those students came to worship that night because their grades depended on it or because their parents made them go. They really were there because they wanted to be.
It changed my thinking, and the course of my ministry career. If you're heading off to college in the fall, or next fall, here are some thoughts that might help you decide:
Private Christian colleges and universities provide an atmosphere that fosters spiritual growth.
At least, good ones do. I remember participating in residence hall Bible studies, discussing science and history through the lens of a Christian worldview, and having an ethnic meal at the home of our campus' missionary in residence.
These and countless other intentional practices, not just sanctioned but encouraged by the university, provide for a place where Christian students can explore the new freedoms common to the college experience without the degree of secular influence common to state universities.
They also provide a protective bubble which may lull Christian students into complacency.
It was easy to be a Christian at Bible college. Everyone else was too. We talked the same language, studied the same books, listened to the same music, and all talked freely about how much we disliked the no dancing policy—even though we were secretly relieved that no one would find out how bad of dancers we really were.
At Christian college, we studied the Bible because it was our homework. We went to chapel because our grades depended on it. And we talked about theology in the dorm lobbies because that was the thing to do.
But, after graduation we realized there wasn't anyone to assign the homework anymore. There wasn't anyone checking our attendance at church on Sunday morning. And the conversations about theology didn't flow as easily with the guys at work.
We learned a lot of great things at Bible college, but life afterwards wasn't turning out to be as easy as we thought.
What I learned that Thursday night in Pearce 127, the first time I visited a campus ministry, was that maybe, just maybe, these students at the secular, state university had something we didn't have at Bible college.
Secular universities provide an atmosphere that crystalizes personal faith.
As in life after college, at the state university there is no one to assign Bible reading, no one to make sure you get up and go to church, and no one to talk through your theological questions. This means, every day, these students have to get up and decide for themselves how they will live. They have to seek out Christian community. They have to carve out time for study, prayer, and fellowship.
In their book firsthand, authors Ryan and Josh Shook talk about the necessity for each of us to be able to take hold of a faith of our own, not just one handed to us by our parents, teachers or pastors. In the pressure cooker environment of the secular university campus, students come to realize that simply saying I'm a Christian isn't enough. Ryan writes, "I may acknowledge God with my mouth, but I often function as if I were an atheist."
The challenge, then, is to approach the freedoms of the secular surroundings as an opportunity to live out a firsthand faith.
Independent campus ministries support students on their journey through college.
And that's what I saw happening, not just in that lecture hall, but in so many ways. In fact, a lot of what I saw looked a lot like what was happening on the Christian college campus. There were Bible studies and small groups. There were guys living in Christian community. They were sitting around with guitars and talking theology.
But there was a difference. All of this was happening in the context of the unprotected world of the secular university. Instead of the professor teaching through his Christian worldview, the professors often attacked the Christian worldview. Instead of church involvement being encouraged, exploration and experimentation was encouraged.
And all these other things, these secular pressures, didn't seem to be limiting the spiritual growth of the students I met and worked with for a decade. On the contrary, they seemed to supercharge it.  Instead of just learning about it, the students involved with these campus ministries had the opportunity to share their faith with people who had never heard about Jesus. They got to pray with them, baptize them, and disciple them.
They got to see God at work transforming lives, and they got to see firsthand what happened when people lived as if there was no God. In the end, these students left college prepared to live out their faith in a real world context.
We often spoke about our campus ministry in terms of a teaching hospital. A place where people come not just to be healed, but to practice the art of healing. Ultimately, most of them move on, to other hospitals (churches), where they continue to use all they learned for the benefit of others.
So, what do you think? Christian college, or state university? Share your thoughts below.
My next post will offer three things to consider when you're choosing a campus ministry to be involved with. If you're still deciding on a college to attend, read this post first.