I remember, as a child, seeing one of my elementary school teachers in the grocery store. What are you doing here? I think I asked, with the sincerity of a child. She was, of course, buying groceries. But this was out of context for me. I had assumed my teachers lived at school.
If I wanted to learn something, I went to school, and there they were.
Even if I didn't care to learn, if I went to school they were still there.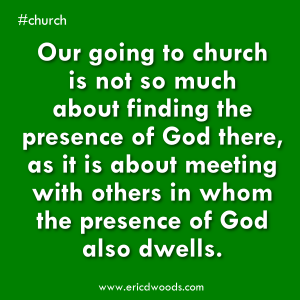 The earliest Christians had to come to grips with a similar shift in understanding. And Hebrews 10:19-25 presents a new context for understanding the presence of God in our world.
19 Therefore, brothers and sisters, since we have confidence to enter the Most Holy Place by the blood of Jesus, 20 by a new and living way opened for us through the curtain, that is, his body, 21 and since we have a great priest over the house of God, 22 let us draw near to God with a sincere heart and with the full assurance that faith brings, having our hearts sprinkled to cleanse us from a guilty conscience and having our bodies washed with pure water. 23 Let us hold unswervingly to the hope we profess, for he who promised is faithful. 24 And let us consider how we may spur one another on toward love and good deeds, 25 not giving up meeting together, as some are in the habit of doing, but encouraging one another—and all the more as you see the Day approaching.
The author of Hebrews is writing, as the name suggests, to the Hebrew people, or to the Jews. He was trying to help them understand how Jesus was the fulfillment of their expectation for Messiah, how he satisfied the requirements of the law in his own sacrifice and shedding of blood, and how they should now function as a new community in a new age.
You see, throughout their history, the Jews had seen the presence of God as abiding in a place, and it was a protected place.
It was in the Ark of the Covenant, which had a place of honor. But the Ark was carried with poles, so as to not touch it directly.
It was in the Holy of Holies, the inner sanctuary of the Temple and the Tabernacle (a sort of portable tent version of the temple). This was a place separated by a thick curtain, and only the high priest could enter, and only occasionally.
And God's presence was also in the cleft of a rock, in a bush that burned, in a pillar of cloud and fire… you get the point.
But now, as we see in Hebrews, all this has changed. And Hebrews 10:19-25 describes six things that are essential for us as individuals and as a community, and which essential for the proper health of the church today.
So, the first three address how we should relate individually towards God. Here is the first, from verse 22. It says, "Let us draw near to God with a sincere heart."
This may sound kind of normal for us. If I asked you to fill in the blank, "I feel close to God when…" (which I did recently on facebook and many of you responded) I think most of us could describe a moment or a place or an activity where we feel we have drawn close to God.
But the Hebrews, I suppose, didn't feel the same way. What they knew and had experienced of God sounded more like Isaiah 57:15, which says, "For this is what the high and exalted One says— he who lives forever, whose name is holy: 'I live in a high and holy place…'"
But the author here, in Hebrews, tells us that the presence of God is no longer confined to a room we cannot enter; it no longer resides exclusively in a high and holy place. Instead, that room was thrown open and we can enter through the curtain.
What has changed?
Verse 19 tells us we can have confidence to enter by the blood of Jesus.
Notice that this drawing near to God has a condition, or a quality applied to it. It says we can not only come near to God, but we can come in sincerity of heart.
What does this mean? It means we don't come hiding our sin, or covering it up. We don't come with a guilty conscience, or with double-mindedness.
We come with sincerity, knowing that, as Hebrews 9:14 says, "the blood of Christ, who through the eternal Spirit offered himself unblemished to God, cleanses our consciences from acts that lead to death."
We have this new confidence to enter the presence of God because of the shed blood of Jesus, and because in that he began a new covenant with us, a new way to approach God.
He has become the great high priest, not over a tent where God's presence was hidden from us, but over our very lives, where his presence dwells in us. 1 Corinthians 3:16 says, "Don't you know that you yourselves are God's temple and that God's Spirit dwells in your midst?"
We can draw near to God because, if we are believers, he lives in us.
I used to go to church expecting to find the presence of God there like I went to school expecting to find my teachers there. Whether I wanted to worship or not, I knew He would be there, and I could meet with Him.
And while I am not suggesting we abandon our going-to-church, I am suggesting we must understand that our going is not so much about finding the presence of God there, as it is about meeting with others in whom the presence of God also dwells.
The healthy church is a community full of that kind of people.